Lowell Brannan is the founder and President of AirOne Heating & Air. Lowell started AirOne Heating & Air in 2006. He began his career in the HVAC industry back in 1995. He has served in all areas of the HVAC industry, installs, service techn and manager. Once a Marine always a Marine, Lowell strives to be the best at his work and attention to detail. Lowell has been married to his high school sweetheart for over 20 years and has two children that keep him busy. They currently reside in Honea Path. Lowell's hobbies include kayak fishing, riding his mountain bike and big game hunting. He enjoys the outdoors and supporting his children with their activities.
Josh is a 8 year employee of AirOne Heating & Air. He has a broad range of HVAC experience from the smallest residential systems, up through churches and school equipment, and even larger commercial equipment in the restaurant industry, and industrial plants & manufacturing facilities. His day to day duties include: preventative maintenances, service calls for system repairs, job estimates for existing systems as well as new construction, educating customers about the many benefits of American Standard equipment, and overall doing whatever it takes to make our customers happy. Josh holds a Comfort Specialist Certification through American Standard.
Service Technician & Sales
Chris has 12 years of HVAC experience. He has worked for AirOne Heating & Air for 7 years. His daily duties include: preventative maintenance, service calls for system repairs and installing new systems for residential as well as commercial jobs. He also likes to educate customers about Accuclean systems & how they can be beneficial for homes as well as businesses. Chris holds a Comfort Specialist Certification from American Standard. He attended UTA Tech for HVAC training in Arkansas. He resides in Anderson and is the father to 3 girls. When he is not working, Chris enjoys hunting, fishing, riding his Harley and whatever all the girls tell him to do!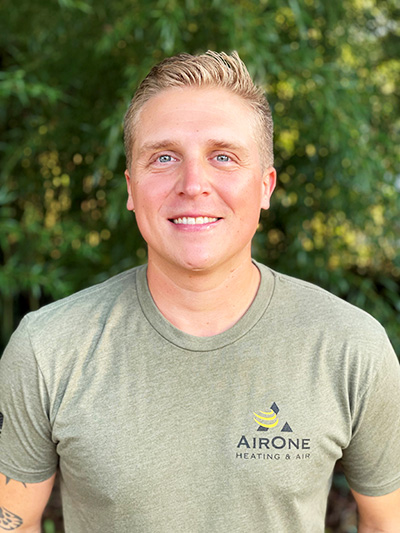 He is the newest addition to the AirOne team. Dalton is a 2018 graduate of Belton-Honea Path High School AND he also received his degree from Tri-County Techincal College with an Associates Degree in HVAC. Dalton enjoys his leisure time riding ATV's with his friends in the mud & spending time with his family. Dalton is a very detailed technician who is looking forward to continue his learning experience with AirOne.
Ben is an installation technician with AirOne for several years. He works hard to ensure the installation is successful and strives for 100% satisfaction for customers. Ben spends time with this family outside of AirOne.
Melissa has been working with Lowell personally for over 20 years! She is a 2002 graduate of Anderson College, graduating with a Bachelor's Degree in Business Administration. She has worked in many areas of business including accounting and administration. In her spare time, Melissa enjoys relaxing at home or a little retail therapy.
Sami is the newest member of AirOne and is deemed the mascot! She is a French Bulldog born in October 2019 and loves to get all the staff with her wagging behind when they walk through the door. She is guaranteed to brighten up the day with her sweet personality
Matt unexpectantly passed away in August, 2021.  He was an important part of the AirOne family and is greatly missed.  Matt always had a smile on his face and an outgoing personality.  Matt was a very dependable employee and will forever be remembered by the AirOne family.